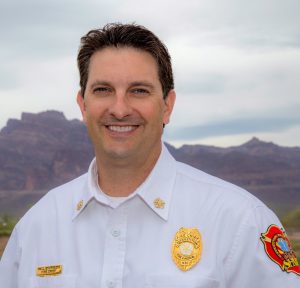 Paul Bourgeois has been Fire Chief of the Superstition Fire & Medical District for four years. Prior to this, he served 20 years with the Mesa Fire & Medical Department as a Battalion Chief, Shift Commander, and East Deputy for the Phoenix Regional Automatic-Aid System.
Chief Bourgeois currently serves as the state coordinator of the National Fallen Firefighters Foundation's Arizona LAST Team and is a member of the Editorial Review Board for Firehouse Magazine. He's been a member of the Board of Directors of the Arizona Fire Chief's Association and also served as Chair of the State's Safety, Health & Survival Section.
Chief Bourgeois holds a Master's degree in Organizational Leadership, a Bachelor's degree in Public Safety Administration, and an Associate degree in Fire Science.  Chief Bourgeois has earned the prestigious Chief Fire Officer (CFO) designation through the Center for Public Safety and Excellence.  He is a member of the International Association of Fire Chief's, the Arizona Fire Chiefs Association, the Fire Department Safety Officer's Association, and the Arizona Fire District Association.