About the District
The Superstition Fire and Medical District is a political subdivision of the State of Arizona, legally established in 1955 under what is now ARS § 48-261. The fire district was formed by a majority of property owners and registered voters, who petitioned the Pinal County Board of Supervisors to create a special taxing district for the express purpose of providing fire protection services to the community.
Since that time the fire district has grown from one fire station to five, a Fleet Services facility, an Administration office, and a Regional Training Center. Along with these facilities came the need for additional staffing; with 89 public safety and 13 civilian staff the district has grown significantly since its origin.
The fire district is located on the east side of the Phoenix Metro area in Pinal County in the state of Arizona and encompasses sixty two (62) square miles and serves the City of Apache Junction, the unincorporated areas of Gold Canyon, Superstition Foothills, Goldfield Foothills and Entrada Del Oro.
A popular winter visitor haven the population fluctuates from 60,000 fulltime residents to over 86,000 residents during the winter months. Additionally, the fire district is home to the Superstition Mountains as well as numerous horse trail systems. Just outside of the fire district boundaries are canyons and lakes that offer water recreation and spectacular views.
Fiscal management of district operations is provided by an elected five-member board, in conjunction with the fire chief who directs administrative and operational services. District operations are divided into four sections; Emergency Services, Community and Technical Services, Administrative Services and Financial Services each led by a member of the Senior Leadership Team. The district delivers advanced life support (ALS) and fire-related life safety functions utilizing a three-platoon system. Each platoon has an assigned battalion chief that directs daily operations with station captains providing supervision of direct fire and emergency medical services (EMS) related operations.
Paul Bourgeois – Fire Chief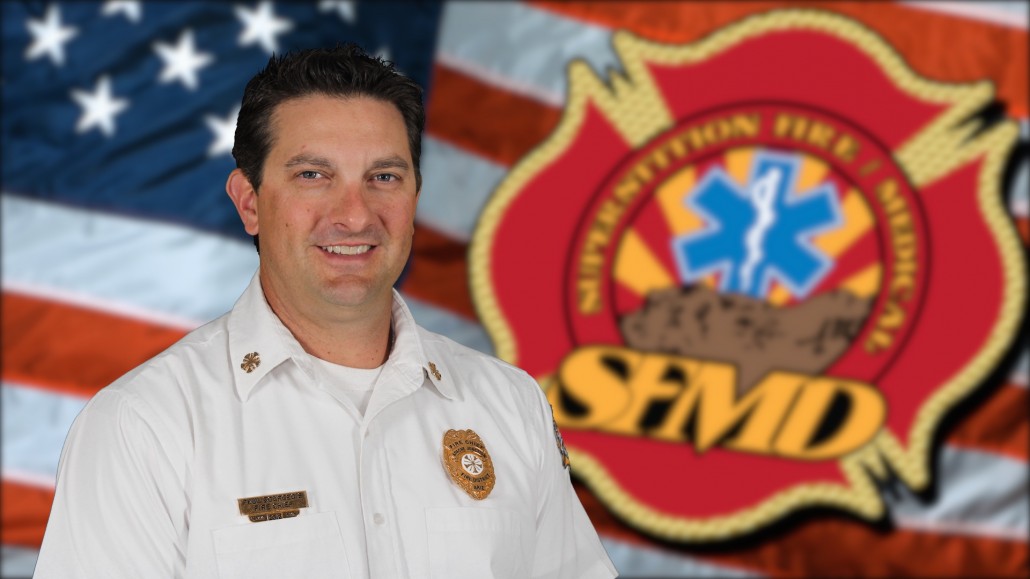 Paul Bourgeois is Fire Chief of the Superstition Fire & Medical District. Prior to this he served 20 years with the Mesa Fire & Medical Department as a Battalion Chief, Shift Commander and East Deputy for the Phoenix regional automatic-aid system.
Chief Bourgeois currently serves as the state coordinator of the National Fallen Firefighters Foundation's Arizona LAST Team and sits on the Board of Directors of the Pinal County United Way. He's been a member of the Board of Directors of the Arizona Fire Chief's Association and served as Chair of the state's Safety, Health & Survival Section. He is a long-time instructor at the East Valley Leadership Academy, taught fire science and EMT at Mesa (AZ) Community College and is a frequent presenter at several local, state and national conferences.
Chief Bourgeois holds a Master's degree in Organizational Leadership, a Bachelor of Science degree in Public Safety Administration, and an Associate degree in Fire Science. Chief Bourgeois recently earned the prestigious Chief Fire Officer (CFO) designation through the Center for Public Safety and Excellence. He is a member of the International Association of Fire Chief's, the Arizona Fire Chiefs Association, the Fire Department Safety Officer's Association, and the Arizona Fire District Association.
Chat with the Chief
Chief Bourgeois welcomes and encourages feedback from the citizens we protect and serve on a daily basis. Please allow 24-48 hours for a response. If you need immediate assistance, the administrative office may be contacted between 7am and 6pm Monday through Thursday at (480) 982-4440.