Mike Farber – Assistant Chief of Community & Technical Services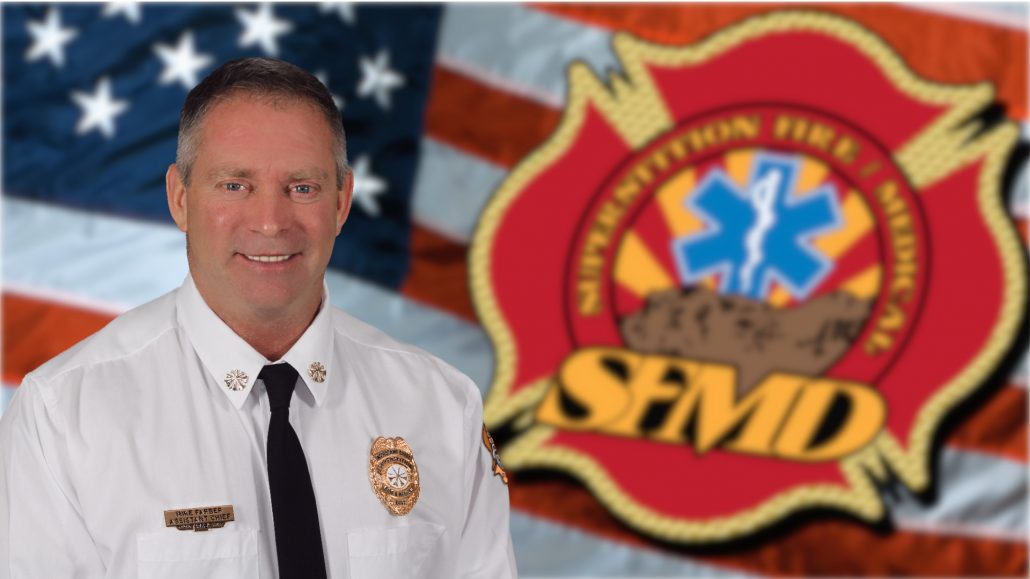 Assistant Chief Farber has 36 years of experience in the fire service including the first five years of his career as a Firefighter for Rural/Metro Fire Department.  Chief Farber has been with the Superstition Fire & Medical District for the last 31 years.  During his time in the District he has served as a Ladder and Engine Company Captain for 12 years and has been a Battalion Chief on C-Shift for eight years and the Assistant Chief of Operations for two years.  Currently Chief Farber is the Assistant Chief of the Planning & Logistics Division and Fire Marshal.
Chief Farber has obtained an Associate Degree in Fire Science, a Bachelor Degree in General Studies from NAU, a Master's Degree in Counseling Psychology, and is working on his Doctorate Degree in Performance Management at Grand Canyon University, and Certified Chief Officer designation through the Center for Public Safety Excellence. Chief Farber is a graduate of the Certified Public Managers Program at Arizona State University and graduated from the Community Risk Reduction Program at the National Fire Academy.  Chief Farber has recently received his nationally certified Incident Safety Officer designation through the FDSOA and became Blue Card certified as an Incident Commander.  Chief Farber has been certified as a Paramedic and a Hazardous Material Technician for over 27 years.
Throughout his career, Chief Farber has been an advocate of education in the Fire Service and has served as a member of the Mesa Community College Curriculum Committee and Fire Science Advisory Committee.  Chief Farber taught courses at Mesa Community College and Central Arizona Community College in Tactics, Hydraulics, Supervision, College Algebra and Communications for over twenty years.  Chief Farber has traveled around the country on major Wildland Fires including the Cedar Fire in  San Diego in 2003 and 2007.  Chief Farber is certified as a Strike Team/Task Force Leader and Structural  Protection Specialist for the Wildland Team for over 20 years.  Chief Farber is the Fire District liaison for the City of Apache Junction Emergency Operation Center and developed several programs and policies for Pandemics such as the Bird Flu that have been implemented for the City of Apache Junction.
Chief Farber has always been active in the community and coached running backs and defensive backs for the Freshman Football team at Apache Junction High School.  Chief Farber is currently on the Board of Directors for Horizon Health and Wellness and a member of the International Association of Fire Chiefs.  Chief Farber has three daughters, one son (who works for AJ Fire), and six grandchildren.
John Suniga – Deputy Fire Marshal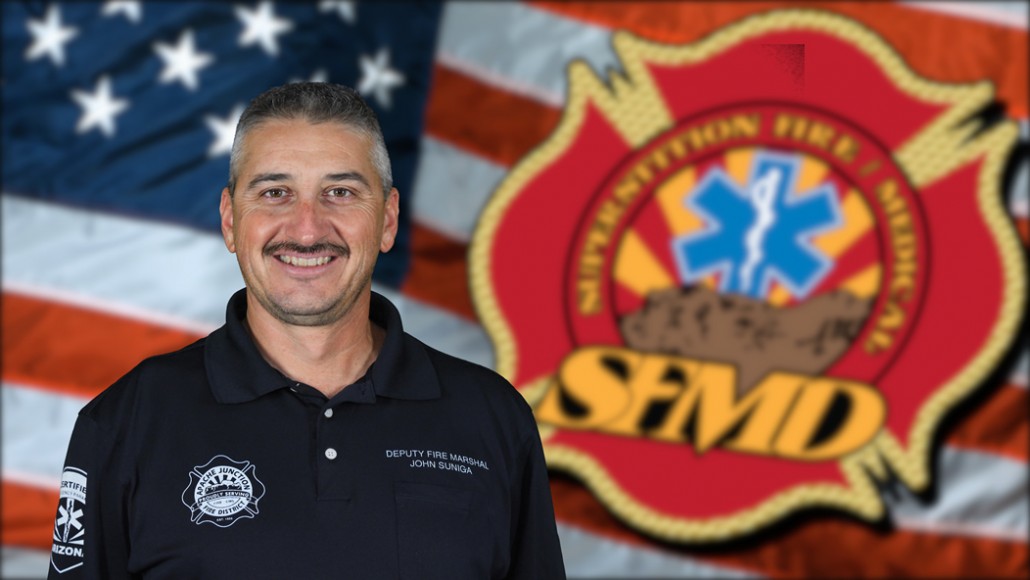 John Suniga has been in the fire service for 22 years, serving his entire career with the Superstition Fire/Medical District. John has held the positions of Firefighter/Paramedic, Engineer, Fire Inspector, and has served as the Deputy Fire Marshal for our district since 2008.
He holds an Associate's Degree in Fire Science, State Fire Inspector level II, Juvenile Fire-Setter Intervention Specialist II, and is a member of the Pinal County Arson Taskforce, Maricopa County Arson Task Force, and the International Association of Arson Investigators.