Superstition Fire & Medical District Emergency Services is headed by Assistant Chief Jerome Schirmer, and consists of Emergency Operations, Training, Emergency Medical Services(EMS), Special Operations, the Community Care Unit, and Fleet Services.
Jerome Schirmer – Assistant Chief of Operations and Emergency Services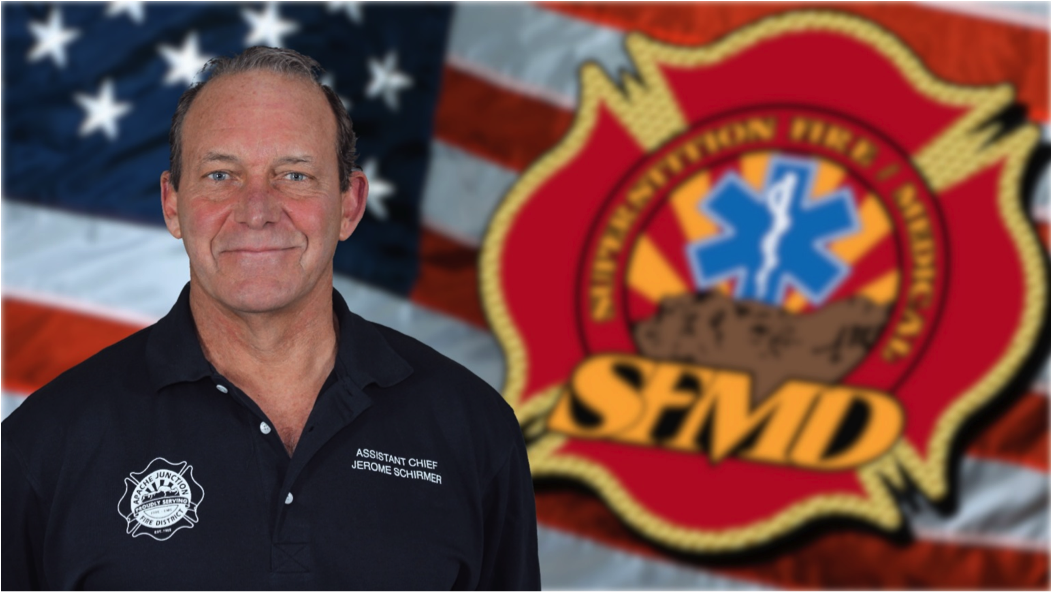 Chief Jerome Schirmer began working for Superstition Fire & Medical District in February 2014.
Prior to SFMD, Chief Schirmer served 28 years at Mesa Fire & Medical Department and during that time worked as a Firefighter, Paramedic, Fire Engineer, Fire Captain, Battalion Chief, and Deputy Chief. Chief Shirmer also worked in the Special Operations and Training Division with the Technical Rescue and Hazardous Materials response teams. He was also a Tactical Medic with the TEMS Team.
Additionally, Chief Schirmer served as faculty, as an instructor for the Mesa Community College Fire Science and EMT Program, instructing paramedicine and fire science courses.
Chief Schirmer is currently a member of IAFC (International Association of Fire Chiefs), AFCA (Arizona Fire Chiefs Association), and Fire Service-Based EMS Advocates c/o Congressional Fire Services Institute. Jerome is a certified instructor for the Blue Card Incident Command Training Program.
Chief Schirmer holds a Bachelor's Degree in Fire Science from Columbia Southern University.
Brett Broman – A-Shift Battalion Chief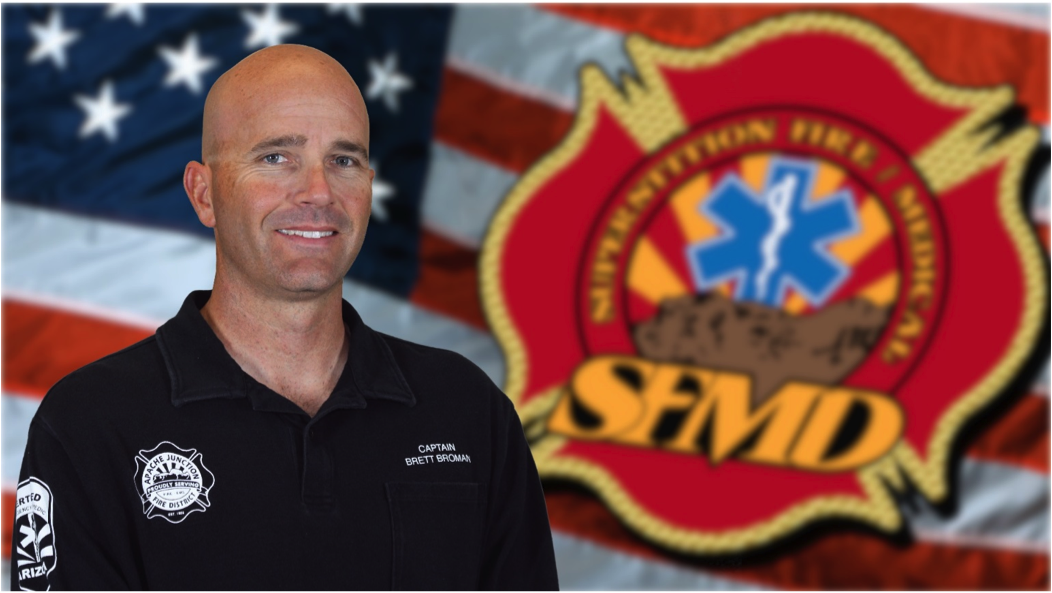 Battalion Chief Brett Broman has been an employee of the Superstition Fire and Medical District since 1995. Brett became a paramedic in 1998 and has since travelled through the ranks of Engineer, Captain, and Battalion Safety Officer. His latest promotion was in 2014 when he became the A-Shift Battalion Chief.
Chief Broman obtained his Bachelor's Degree in Fire and Emergency Services Administration from Colorado State University, is a nationally certified Incident Safety Officer through FDSOA, and recently attained "Blue Card" incident command instructor status.
Brett is a native Arizonian, growing up in the East Valley. He has a wife, two beautiful daughters, and a new dog, Jax. During his off-time, he is an avid outdoor enthusiast who loves to spend time with his family, hunt, and play golf.
Jeff Cranmer – B-Shift Battalion Chief

Having grown up in our community of Apache Junction, Battalion Chief Cranmer has a deep abiding love and commitment to the people of the community of Apache Junction. He started his career at the Apache Junction Fire District in 1994 as a Firefighter. Jeff advanced to Firefighter Paramedic in 1998 after finishing the Maricopa County Medical Paramedic Program. In 1999 Chief Cranmer promoted to Engineer and then promoted to Captain in 2001. Since joining the Apache  Junction Fire District, now known as Superstition Fire and Medical he has worked throughout the community in Apache Junction and Gold Canyon in the different capacities and ranks. Battalion Chief Cranmer then pursued and became a Battalion Safety Officer in 2010 and more recently completed the Public Administration BAS program from Northern Arizona University 2014.
Currently Chief Cranmer serves as the B Shift Battalion Chief. Cranmer has the privilege to support our community and staff by working with the SFMD Explorer Program, SCBA Team, and Facilities Team. Chief Cranmer volunteers extra time at the Apache Junction High School as a Fire Service Foundations Program Adviser and as a East Valley Institute of Technology Fire Science Adviser.
Together he and his wife Suzi enjoy their three son's Garrett, Thomas, and Samson. Chief Cranmer believes faith, family, and service are core values to live by at work at home and while serving the community.
Richard Mooney – C-Shift Battalion Chief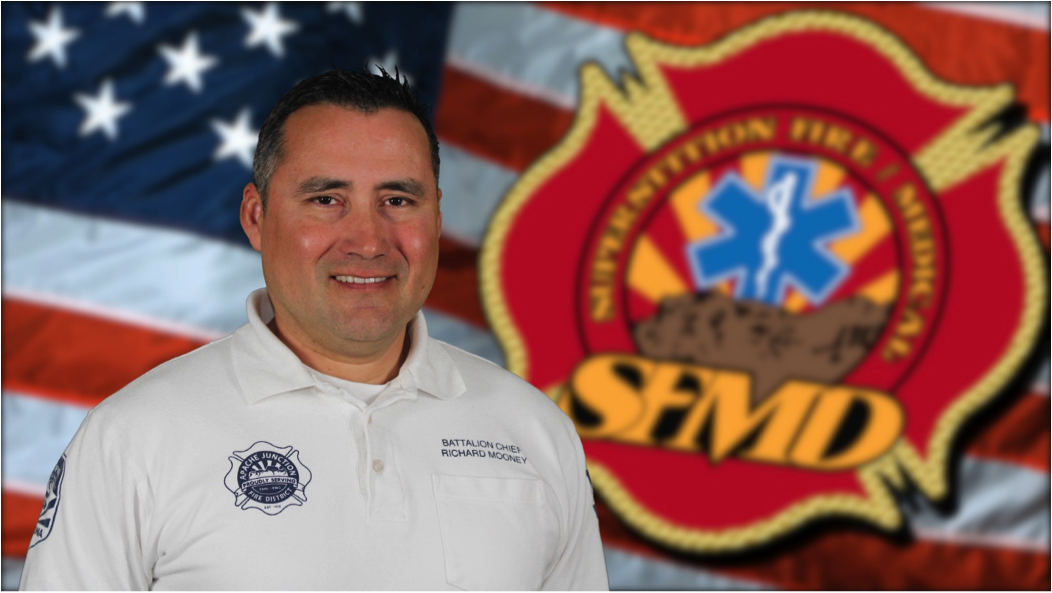 Battalion Chief Richard Mooney started his career with the Apache Junction Fire District as a reserve firefighter/paramedic in 1996. He was then hired as a full-time firefighter with the Apache Junction Fire District in September 1998.
From 2001 through 2003, he became a Technical Rescue Technician, was promoted to Fire Engineer and following that became a Fire Captain.
As a Captain, Richard worked on both engine and ladder companies. He later became a Battalion Safety Officer, and was promoted to Battalion Chief in November of 2012.
Chief Mooney currently serves as the C-Shift Battalion Chief, manages the Health and Wellness Committee, and the Safety Committee.
Chief Mooney has a Bachelor of Science Degree from Arizona State University and a Master's Degree in Leadership from Grand Canyon University. He possesses both the Incident Safety Officer and the Health Safety Officer certifications, and has completed fire arson investigations courses.
Richard Ochs – Division Chief of Training/EMS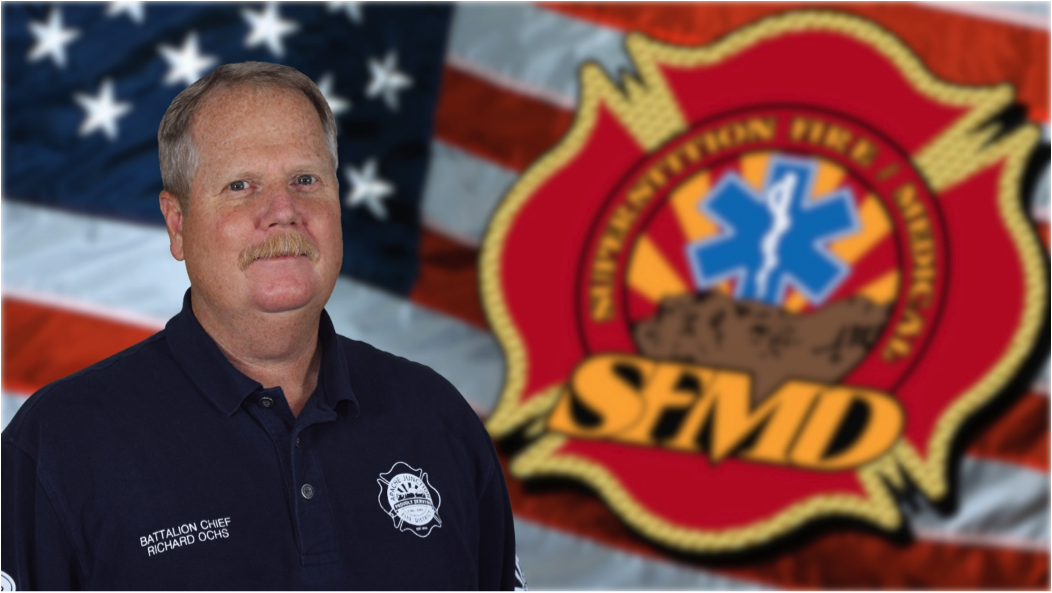 Richard Ochs was appointed to Division Chief of Training/EMS in July of 2014. He also manages the Fire District's Special Operations Teams which include Wildland and Technical Rescue.
Richard began his career as a firefighter with the Apache Junction Fire District in 1991 after previously serving the organization as a reserve firefighter. He certified as a paramedic in 1994 and a Technical Rescue Technician in 1999. Richard promoted through the ranks of Fire Captain in 1996 and Battalion Chief in 2010.
Chief Ochs is a State of Arizona Instructor/Trainer through the Arizona Center for Fire Service Excellence and serves as the East Valley representative for the Arizona Fire Chief's Association Training Section. He is a certified Incident Safety Officer and Trainer through the Fire Department Safety Officers Association. He completed the Fire Service Institute; Advanced Public Executive Program established by ASU and the Supervisors Academy through Arizona Governmental Training. He is a member of the Arizona Fire Chief's Association and the Pinal County Emergency Management Planning Committee. Chief Ochs has an Associate in Arts Degree in Paramedicine from Central Arizona College and a Bachelor's Degree in Public Safety Management from Grand Canyon University.